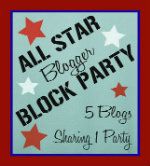 The time has come... it's here.... we're ready... I vacuumed... and made sure the place looks all neat and tidy... the

A

L

L

S

T

A

R

S

ARE COMING TONIGHT!!!!!!! I can't wait to see what you all have been working on...
Remember this

A

L

L

S

T

A

R

B

L

O

G

G

E

R

S

B

L

O

C

K

P

A

R

T

Y

is

5

BLOGS

STRONG

.... so when you post on one... you're going to show up on all 5!!!!! How's that for exposure!!! Pretty kewl dontcha think ? So grab your recipes, crafts, photo's, DIY projects, rehab projects, whatever it is that

you

did... we want to see it....

Just remember the rules please they benefit everyone....



The "rules"


Keep your links family friendly and only link up projects made by YOU.
No business pages, giveaways or link parties allowed.
Follow your hosts (listed below) and please link back to the host's blog that you linked up to.
We reserve the right to delete any link that does not abide by these rules.
PLEASE DO grab an ALL STARS Block Party Button and place it somewhere on your blog
PLEASE DO check out at the very least the post in front and behind you and leave them a comment..
we all love to hear from each other and it's a great way to meet new folks and make new friends who knows your new BFF might be out there... (giggles)


Don't forget your link up will show up with my other 4 Co Hosts as well... Can't beat that exposure!!!!! 5 Blogs with one link up!!! Just for our A

L

L

S

T

A

R

S

~

!

!

!

!

THANKS SO MUCH IN ADVANCE FOR YOUR KIND AND SWEET LINK UPS!!!!
Now lets get started and parteeeeeeeeeeeee!!!!!!!! Yehaaaaaw~~!!!!!!!!
First Link UP ..... for
We have decided to divide the links into two categories....to make it easier to navigate.
FOODS AND RECIPES


CRAFTS AND ALL ELSE: